Hello, My name is Cathy Blanton. I am the founder of Angel Cakes and am also the volunteer for Collin County, Texas.
When I started the Angel Cakes Organization in September of 2000, I was inspired by God to use my creativity by making special birthday cakes for needy children.
Making and giving these cakes also gives me the opportunity to spread God's love to those who might really need to know the truth about Jesus and how He died for our sins. Usually, these children (and even sometimes their parents) can not understand why they are experiencing the situation they are in. And, sometimes they even place the blame on God and they feel unloved. Well guess what..., no matter who you are, or what your situations are in life, we ALL have problems. Click on this link to see Five ways God uses problems in our lives.
Here in Collin County, Texas, the homeless shelter I support is called "The Samaritan Inn" which is located in McKinney, Texas. The individuals and families who rely on this homeless shelter for basic provisions are treated with the utmost respect and are given the opportunity for financial and life-skills training. I am thrilled to be able to provide Angel Cakes for the children who have birthdays while living in these temporary quarters. And, once a family gets back on their feet and moves into housing of their own, The Samaritan Inn continues to support them by providing food and sometimes even furniture if needed.
I also support "City House" a teen emergency shelter and "City House Transitional Living Program" for homeless youths ages 15 to 21 who need additional support to successfully transition into independent living.
Would you like to see some of the cakes that have made these children smile in Collin County? If so, please click HERE.
My Texas License Plates: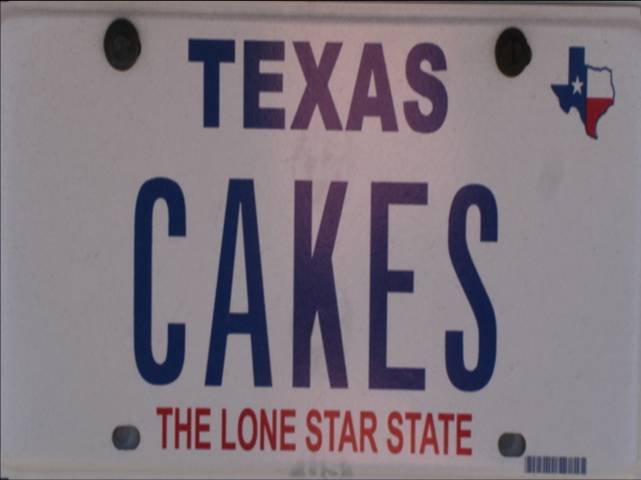 If you are interested in supporting the Texas/Collin County Chapter of Angel Cakes by giving a donation, please click HERE for our Donations page, or send me an e-mail (the address is below). All proceeds go directly towards making specialty birthday cakes for the needy and homeless children in Collin County. Just think about all the smiles we bring to their sweet little faces...
Please let me know what you think about the website, our Angel Cakes mission, or any suggestions you might have. You can e-mail me at the address below. I look forward to hearing from you! God Bless!
Thanks for stopping by!